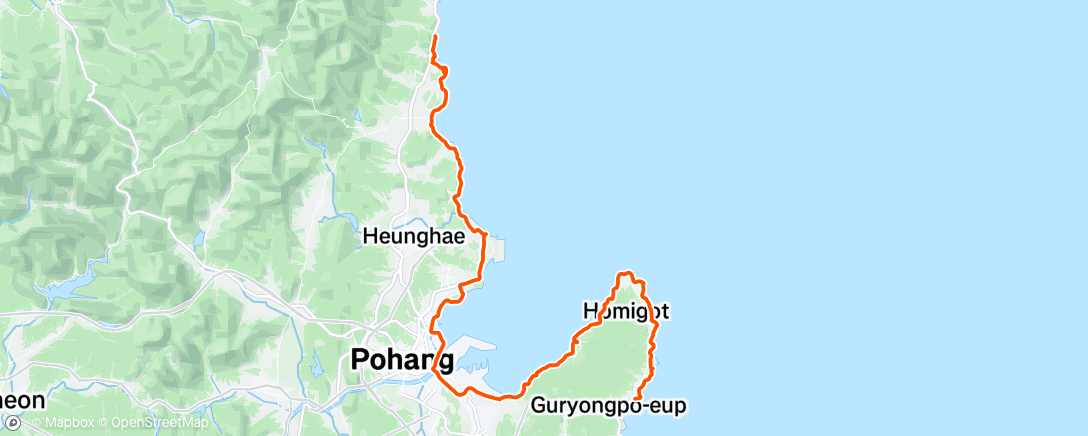 Km cycled: 88.5km, elevation gain: 714m
Stayed: Fou Motel, Jigyeongri, Songra-myeon, Buk-gu, Pohang City (not in Pohang!)
A bit more painted pavement, then paint-only road cycle path, then back to the water for a bit before it's proper minor road cycling time again – lots of it by the beach. Actually really enjoyable! This is what we signed up for! Hell yeah. Even the blue signs are back and being helpful. You're basically riding around the peninsula by now on the East Sea side, and this is honestly one of my favourite parts of the whole trip. Shame to miss it by starting in Pohang, honestly. Even the parts when away from the sea somehow feel more interesting – maybe now it's a road to nowhere, it's rather more quiet and fun. Plus, these feel more like interludes from beachfront riding rather than the main point of the day. Lots of port village cycling – working places, not touristy. Even the hills felt fun. So much narrow tarmac fun following the sea.
About ¾ of the way up the peninsula the road comes to an abrupt halt and it's time to get off the bike to walk along a narrow pedestrian boardwalk around rocks below. I don't care, it's lovely. Steps, but not many. The road resumes at the other side. Damn, this is a nice cycle. Eventually the tip of the peninsula appears – a grasping hand rises from out of the water and another from the land, a lighthouse, and even a red stamping booth with no stamp (presumably, when they make the East Coast cycle path official down here, it will be featured). This was the first really touristy place I'd encountered on the cycle so far, but I liked it. A lot. Still, ever forward. More coastal riding across the top of the peninsula. Get lost in a car park, find the sign to avoid "crashed caution" ("추락주의") and on we go. Kakao Maps depiction of the cycle route changes from blue to green, and I have no idea why. How can you not love this? Quiet, sea ahead and to your side, kilometre after kilometre. My god, this is fun.
Nothing lasts forever, of course. An eery tunnel. A steep curving ride up. Hooray, it's a highway. (Prefectural Route 929 again, here wide and high from the water). Ok, less fun. Oppressive fence on one side, and steep drop to the sea on the other. Hills and bends, hills and bends. Forward, forward, forward. We hit sea-level riding again, and it is everything. No beach, just small concrete wedges and the water. This also means flat. Love it. Crush it. And then 929 is back into the hills. Every time the map shows you twists on a road not following the coast, you know what is coming. It's steep in places, and not for the first time the pack over my back wheel laughs at my attempts to crank my high lowest gear. Walk, bike, walk, bike. Did I feel guilty walking on a bike trip? No, but the (minor) hit to my average speed hurt a little bit. Would I do it again? With this chain set? Ooh boy yes. Philosophy has nothing on lactic acid. Particularly liked the "steep section ahead" sign (well, 7%) a quarter of the way up one bloody hill. Chapeau, whoever put that up. Chap-bloody-eau.
Back down and to the coast again, another wee village. Military stuff, first time of noticing it on this ride. A ride away from the coast, then back towards it on a narrow farm track. Overtaken by a car I then get stuck behind. The arrogance prickles more than the heat, but it isn't for long. I turn left over a tiny bridge, and coastal road stretches before me once again. No driver can enjoy this the way I can. Road 2490 gives way to the main road again, but it's back to beachside so who cares? That doesn't last of course. These roads are made for engines, not legs. Back up above the coastline, sweeping bends, motels and resorts. I enjoy it less than the morning. Soon, sharp right into a conference centre car park. Uh, ok. Cycle path out downhill, downhill, locked metal mesh gate. Oh - there's a tiny person-sized door in it. Carefully lift bike through it. Cycle paths in Korea are certainly unique. And a small coastal road again, until a dedicated bike track appears to guide you into Pohang. A large Pohang car park, indeed! There are toilets.
The ride now on small side-streets. Dodging ajummas ambling in the middle of the roads. Then route 31, we meet again. Head of a T junction, cycle lane vanishes. Just head straight and pitch left at the last minute, then. (Or try to cycle hard right to the crossing behind a grassy traffic island, but since there is no footpath to wait on, you'd be crazy). Shared pavement - after a while I decide it's not worth it. Wide road feels safe enough (4 lanes in my direction). I take a wrong turning, but same basic direction. Brings me out on an overly busy road, so I cross and take to the pavement. The East Coast path rejoins soon enough, and I follow to emart.
I emerge to rush hour, making road cycling impossible. The pavements aren't great, but on we follow past the massive Posco works. At the entrance by the river, I am in a sea of bikes - themselves all dodging the workers finishing their shifts. Quickly though over the bridge and down to the river. The most exposed cycling so far: no barrier to the side, just a 90 degree angle where the tarmac falls away to the water – inviting me to do the same. I stick to the left except when someone has to pass. Round the harbour building, shared footpath by the sea again. Not for long – this is a peninsula, so we head inland and over a bridge, back to landmass. Narrow bike path painted onto the pavement, here. The first appearance of the nine painted dots, 3x3. Maybe for impromptu games of noughts and crosses. Soon the red paint becomes green, and we're following water again, and back to red, and soon the city is fading away and red too fades to simple tarmac. This is what I expected: safe, quick, dedicated cycle path. It goes on, but I don't: the path has us heading inland and I dutifully follow.
What should be a two-way cycle lane here is instead a car park. I catch myself surprised that this saddens me. A right turn and the lane becomes dedicated, and quick. Nervous to leave my bike unguarded in Pohang, I have waited to resupply and go to a petrol station to get water; none there, but the fishing shop next door has plenty. Lesson learnt. The cycle path doesn't take the beach road here, so neither do I – still, the dedicated cycle lane is decent. It ends near a factory, where it becomes painted on the road beneath a hundred parked cars. I've not seen anything quite like it. Still, down to the sea. When you reach it, realise you were supposed to turn left earlier, but the on-road sign was probably under a parked car. Fucksticks. Still, the beach you reach by mistake is really quite nice. But back I go. The road is like a motorway now, but without the traffic. Blue signs make a welcome return, helping the navigation through the industry.
Soon three lanes becomes one, and it's into the countryside again. Some nice beaches, but lots of trees lining the road too. Sometimes half a bike pictogram winks out from under the hedgerow at the side of the road, taunting you to try to cycle in the lane someone once thought you might appreciate. You don't do either, of course. The sea is somewhere over there – wide sweep of the arm – and you want to get back to it. So on you go. The main road cycling isn't as long today, and soon you're back by the sea. Short stretch of main road, and back by the sea. These harbour towns start to run together, after a while. Not much local innovation in landing fish. Still, it far beats the highway. Back on to that, back off again.
I am in Wolpo. Morrissey starts to play in my head… "This is the coastal town, that they forgot to close down". It's low season, perhaps I'm being unfair. I thought about staying here, and decide I can't bear to (and want to kill off some more km before bed). I press on. Beach. Razor wire. Road heads inland, route turns right to head back to the coast. Cute little town. I want to stay here. Pension closed, pension closed, pension closed. Maybe if I'd booked in advance? But I wouldn't have known I would get here… Fuck, it's almost dark. Lights on, push forward. Not having fun now. Eco lodge, lights on? Google it – 180k a night. No. Further. Turn right, farmyard track. If I were to meet an axe murderer, it'd be here, I think. Can't see well, but on we go. The sea! More razor wire. Further, further. There's a goddamn dual carriageway. Through the car park of a service station. Strange looking motorway hotel. Expensive. Full. I'm on the highway itself now (Route 7). This isn't fun, though given this is apparently a two way cycle lane, very VERY glad I'm going with traffic and not against it.
Construction. Holy shit, almost headfirst into the sinkhole they left! Pension – closed. Motel – full. Shit. By now no residual daylight is left at all. Desperately searching on Naver Maps. Motel. One star reviews. I don't care. Find it, machine check-in, bike in the lift, into the room (bike stored upside down as always). "Dinner" at the Ediya Coffee next door followed by cup noodles. I did not sleep well.