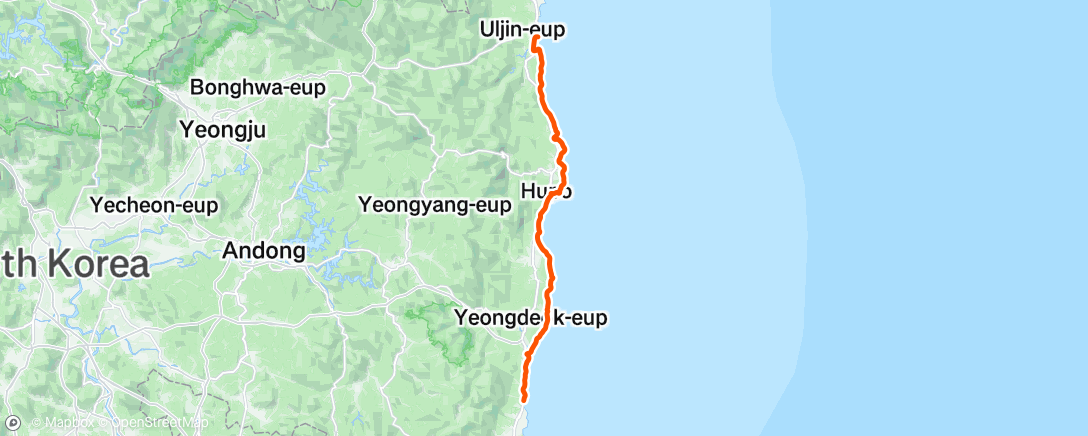 Km cycled: 109.5km, elevation gain: 815m
Stayed: Uljin Grand Hotel
The day begins with more of the through-village, by-sea narrow roads that are pretty fun. You then meet Route 7 again, but cycle on a separated lane (after a quick slip road), nice. Into a car park for a beach area, and there's a pretty big convenience store by the cycle lane exit - the first for a long while. Through a tunnel and some dog-legging through a big village, then back under the highway and up again. The briefest of brief kiss to the highway, and more village riding before the highway gets its embrace with more dedicated bike lane to the side. This patten is repeated. Sometimes the dedicated cycle lane stops being dedicated and returns to paint on the side of the highway. Still, it is a really nice ride - even through Ganggu, although gotta be careful on the bridge. This town also loves its giant crabs (seems to be a snow crab location). After Ganggu it's almost all on-road riding, though pretty quiet.
There's honestly not much more to say for quite a long way - same kind of scenery, by the sea, cute and quick. There are cycle lanes I tended not to use - they often just dump you back in traffic - but good to know they are there. The road opens up a bit as you leave civilisation. You will pass an insane statue of a man holding a crab aloft like he has just won the crabbing world cup or something. Slog up the hill - the cycle lane here is useful - and you'll find another tourist spot, this one the location of a BTS music video. There's a lighthouse here too. It's a ton of stairs to see the thing itself, so enough to revel in the sign I think. Keep going, and pass another rest area with a circle crab map (really), and there's shortly another rest area with a big stone, a wooden building, and the first red stamp box! Easy to miss if sweeping downhill or slogging up it. The hills here are sweeping and fun, but be aware of traffic. The road narrows as it flattens. The hills get less sweeping, and less fun. We are back to road high above the water, slogging away. Oh well - at least it's pretty quiet. (Again, there seems to be a lot more for the northbound cyclist than the southbound, during this long section - except for a bit north of 경정1리.) 
Eventually you hit Cheoksanhang with its wonderful welcome arch - love it. Lots of good places to stock up here.  The road after is open to the sea, so while it's not that different to what came before, it is a lot more enjoyable. You'll meet Route 7 again, and a nice shared pavement / cycle facility that is lovely until it, as always, ends abruptly at a brick wall. It starts again after a while though, and takes you all the way to Goraebul Beach for red stamp booth #2! It's right by the giant metal dolphin.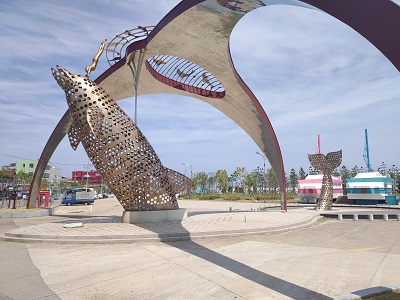 I stopped here for ice cream and bathroom (these things were not related). Then it's back to coastal road riding, with some (2 x one-way or two-way) painted cycle lanes. More through towns, more countryside. It's pretty. After a while you meet Route 7 again - just before, the blue lines lead you to the side for a boardwalk. I missed it, but luckily there's a way onto it just a hundred metres or so after joining the highway if you do miss it. This was one of my favourite stretches of a very good day. The road swings back and forth under the highway, then picks up a road following the highway again by the water. Heading back to the highway there's another boardwalk, however it was closed off - the middle part of it was missing - and I'm honestly not sure what someone heading southbound would do at this point. Another boardwalk and this one intact, again very worth taking to avoid time on the highway. The cycle path then veers off to the right, down a rocky non-paved hill to be faced with a very blunt message at the bottom.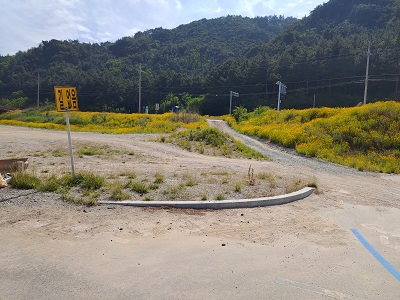 Anyway from here it's back to coastal road. Wooden bridge, and a road that's closed to cars. Hupo is a nice town to stock up - I found a good kimbab place, and the copyright-smashing "홈mart". Back to quiet coastal road, under a ship-loading conveyor belt, and just some amazing coastal riding. Another massive crab climbing the sea wall like a 70s horror film. A three-storey watchtower. Amazing views over rice paddies to mountains. Across a bridge and a section of inexplicable cobblestones. And the next red stamp booth - where the right turn to Wolsongjeong is, with a road leading under a pagoda-style gate. And then back to coastal riding. It's still lovely.
There's a long ride up a hill to the top of right underneath an airport approach path. Some great atmosphere if you're lucky. A nice downhill but a sharp right at the bottom. This has taken you pretty inland so it's good to start to head back to the coast again - but then back away. A very small stream and the path was blocked, so had to head back and cycle along the other side of it. Then hill, hill, hill... a pretty long one, a little steep in places. The top of a hill has a bridge over it, which feels weird; heading down wasn't fun. The road was scored with lines directly down the hill, and it played hell with my front wheel traction. At least there wasn't much in the way of big bends before a long run-off. And another up, and another down, and a long run along the coast again.
Route 7, we meet again. Luckily the trail doesn't take you onto it and instead just to a service area - and red stamp box #4. On we go. The bike path goes off to a dedicated path on the right - this is not one to miss, or you're on the elevated dual carriageway with no easy escape. As I did. Bugger. You do actually join the dual carriageway a bit later - again, not sure how to do this if you're going southbound - before diving down a side road (blocked by cars for me, but they shuffled forward eventually) and back to lovely beachside road cycling.
As you head inland, there's a good off-road shared pavement, heading up into Uljin. Then a right turn across the big bridge, and bang - there goes my rear tyre. And I lost my spanner, spanner that I am. So it's from there a LONG walk into the town of Uljin to find a bike shop to fix me up. So that's the end of that day of cycling.
The hotel was very nice though, even if they asked to leave the bike in their (closed) restaurant where the front desk could see it. Pretty good value too.
This also meant I didn't cycle past the last red stamp booth, but it's at the south side of the big metal fish bridge(!) ("sweetfish bridge") before getting to the middle of Uljin.