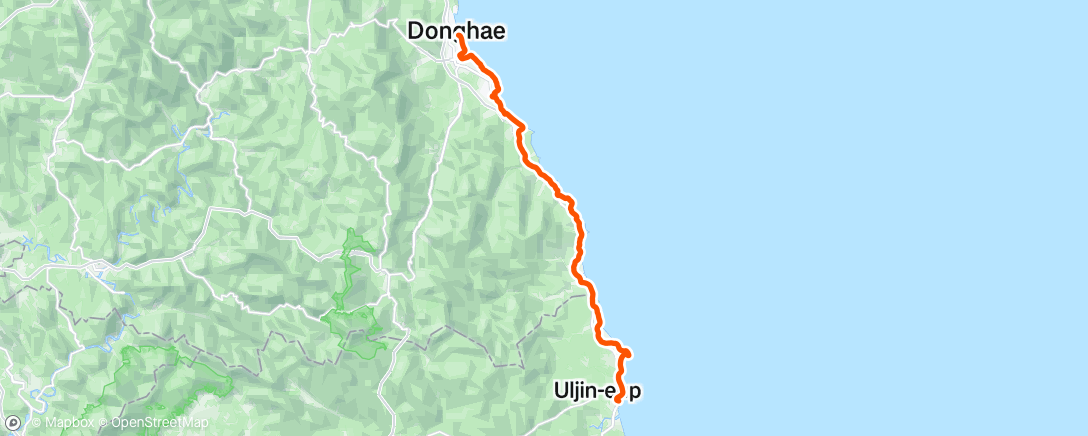 Km cycled: 95km, elevation gain: 1,065m
Stayed: Hyunjin Tourist Hotel
After a good day in parts on the second day, and an amazing day the day before, I hit the road full of enthusiasm. The route went through the outskirts of Uljin not far from my hotel, so I hopped on the route and followed it back to the coast. And indeed, the coastal road riding was really fun. It got hilly though... but still, good fun. Then you get to Jukbyeon Port. To which I can only say WHAT ARE YOU DOING, ROUTE PLANNERS? To avoid one moderate hill and get a bit closer to the sea (not that you really notice), you end up taking a windy route through housing with some really steep hills. Why? WHY? Anyway I really suggest just taking Jukbyeon Buk-ro unless you absolutely must follow the route. Don't say I didn't warn you.
Anyway, from there the track heads inland somewhat (and uphill) and back coastwards, without quite getting there. And then back again, though a bit flatter this time at the start. Long grinding hills start, with somewhat useful bike lanes. Very fast route down again, and then a right turn into an industrial estate that Kakao and Naver Maps don't know about (but at least Naver shows the roads). There's a second bridge to the one you would otherwise go over. Doesn't matter too much though. Then it is over to the coast again on more of those narrow roads. The road turns into a dedicated cycle path, which turns into a beach. Road bikes and sand don't really mix. Then a narrow boardwalk with steps, and back to a coastal road - though not for long, as you ride parallel to it one block inland. It's fairly significantly inland for a while, and back to the hills again. One grinding one as you pass a highway exit. Up and up, some of it 10% grade. Then a sweeping downhill run, almost alpine... with a sharp abrupt right turn at the bottom. Oof.
It goes on. The first hint of a totally wired-off beach. A bit weird to cycle past, but the sea is there at least. And then a chemical factory - with a place with a terrace opposite, such a view. Inland a bit, a long bridge, thirsty as hell. I persuaded the poor sods in the S-Oil to give me a sip from their water dispenser. Along a road next to a highway again, underneath, a helpful crossing painted onto the road. That leads onto a shared use pavement that doesn't really feel so useful except for the uphill part... and then there are more uphill parts. There's a GS25 at Sureung Junction, that is incredibly useful. Then hill again. Under the highway, up still more. There's a useful "winding road" warning sign featuring explosions. Well. Slog away, pass the first of the second lot of stamping booths (where the road is running parallel to the highway, before the downhills to Imwon town), and reach Imwon itself. The cycle lane ends abruptly at a car park sign, so that's nice. Through the town and back uphill again, even some switchbacks. On and on and on. Even through Yonghwa the hills manage to assert themselves. It is rather brutal road cycling, far enough from the coast not to feel it. Not as bad as day 1. Again a handy GS25 right before yet another hill, and a cafe called Hakuna Matata to bring a smile - don't often see Swahili written in Hangeul. On further, just more road cycling, until a nice dedicated cycle path along a river. This turns into a road of sorts, but it's quiet and shaded. Over a wee bridge and then a cycle back along the river to the sea. Onto a seaside path with some available toilets (a lot of beath toilets seem closed out of season) and then a coast access road. Round the houses to go back along the highway, underneath, back up the other side. Uphill and uphill and over the tunnel that carries the highway, and the next red stamping booth appears.
Heading downhill and the cycle path goes off to the right, however it was closed when I cycled it so I stayed on the road. There's a boardwalk of sorts to avoid the queuing traffic, that takes you into a few back streets and merges with the cycle route marked on the map. From there it's another follow-the-stream ride - but this time arriving at a river, and a dedicated bike path. It follows to a bridge over the river, and then another off-road dedicated path that joins up with a small road further down. A sharp left to avoid riding into a factory, then construction and a closed road sent me on a small detour doing the other two sides of a triangle of roads. No helpful signs for this part. Urban streets now, for better or worse. Back to the coast, some more steepish hills, some cute installations, and coastal riding again. Then over to a boardwalk and along the sand, away from the parked cars. Back on the road, a bit of a dog-leg, up, back down to the sea, round a car park and onto a viewing path around the rocks. There's a red stamping booth along this track.
It pops out at a car park, and there's a small tunnel to the main road to pick up a shared use footpath by the road. Pretty long hill, then through an office car park and along a tree-lined narrow road back to the coast. A dedicated path branches off and runs below it after a while. Follow, follow, up to a bridge and across. Along, along, some big factory on one side, following it around with some very slow traffic lights. Under the railway line and a straight ride up to Donghae.
A really nice hotel - kept my bike in their luggage storage room. The cheese donkatsu round the corner was exactly what was needed. And of course, convenience stores everywhere.